College can be stressful, but that doesn't mean it has to show in your room! In fact, if you spend some time to decorate your dorm room properly, it will help to keep your stress level in check. Here are some cool dorm decorating ideas that will make you feel right at home.
1. A great way to save up some space as well as keeping it cozy. The wooden frame also gives off an appealing sensation to the eye. The wall decoration looks like a snowflake at first glance, but is actually a bouquet of flowers. That ambiguity is great because now the decor piece looks in season for both Winter and Spring.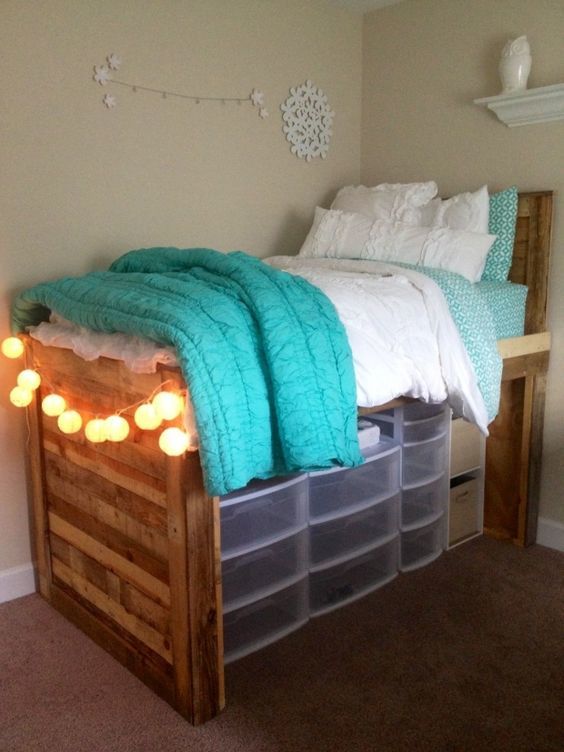 2. Who says too many things can't look neat and organized? More items just fill up the blank spots and make it better. This style gives off the vibe of a guy's dorm room, but it definitely works for both genders.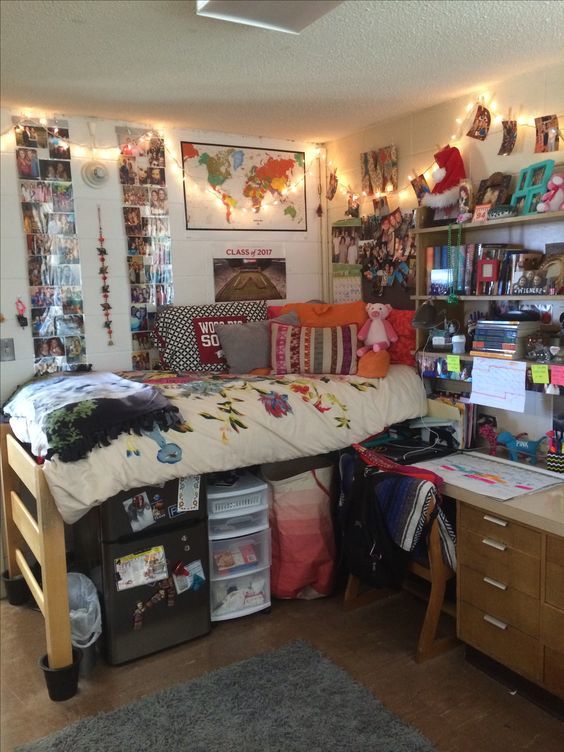 3.  Easy access to your bed after you've finished studying for the morning after. The wood-on-wood combination looks so natural that it makes it look like you had the bed custom-built for your dorm. Obviously this only works for a single dorm room.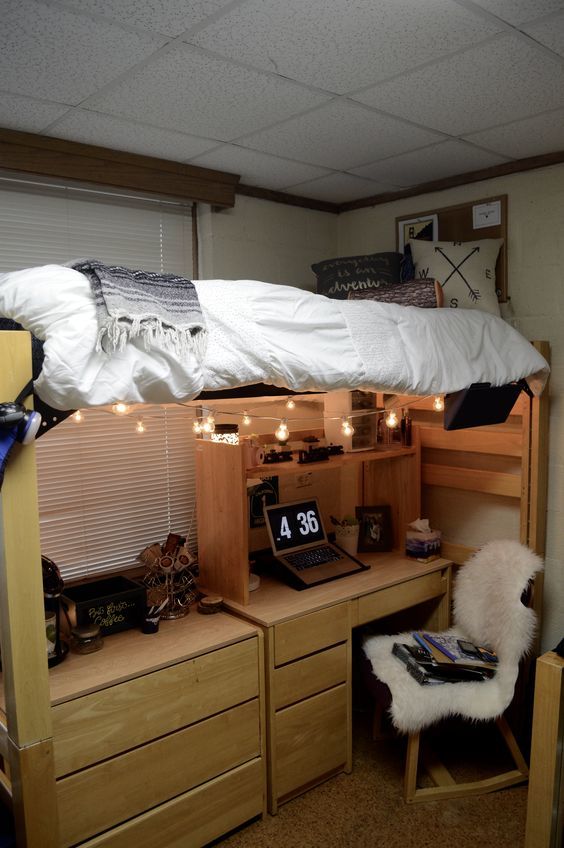 4. For the ladies out there, a private makeup room under your bed! Be extra secure knowing that nobody is peeking while you plus those eyebrows.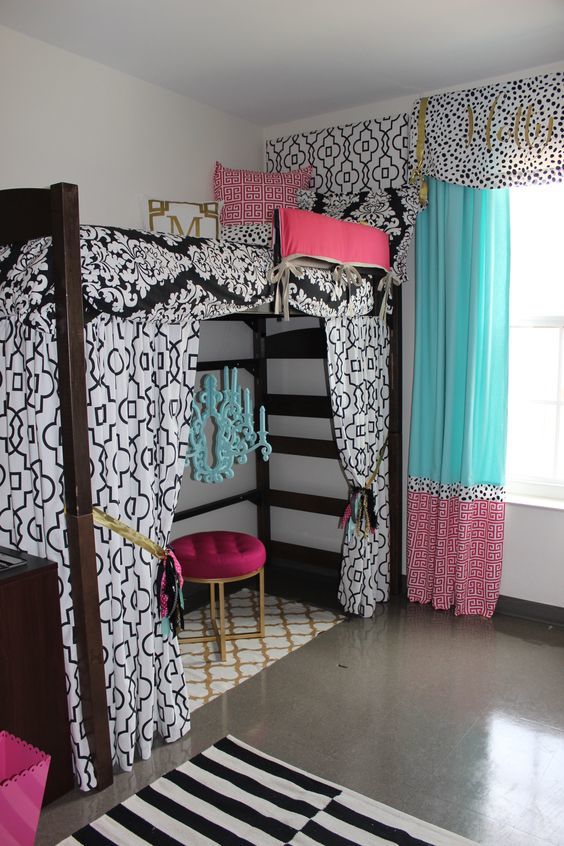 5. Save space by having a bedroom and living room altogether. Whoever the genius is behind this, we need to give him a medal for it.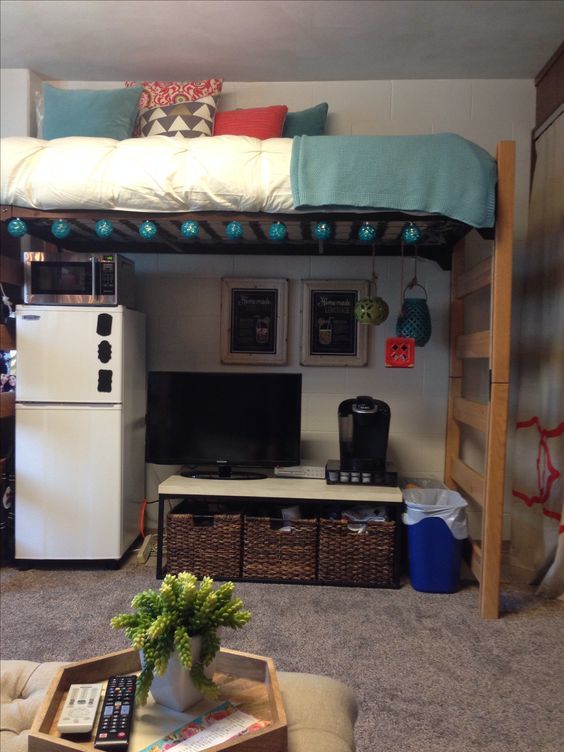 6. "Is your dorm as pretty as your face?" Yes. Yes, it is. Show the interior artist inside you by nailing this gorgeous dorm decoration. Very cozy.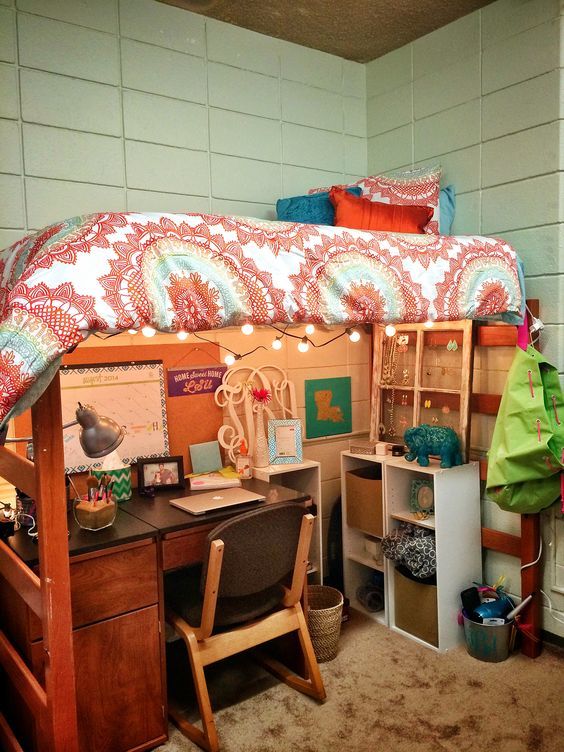 7. Mom: "How's your first dorm sweetie?" Me: "Sofa, so good".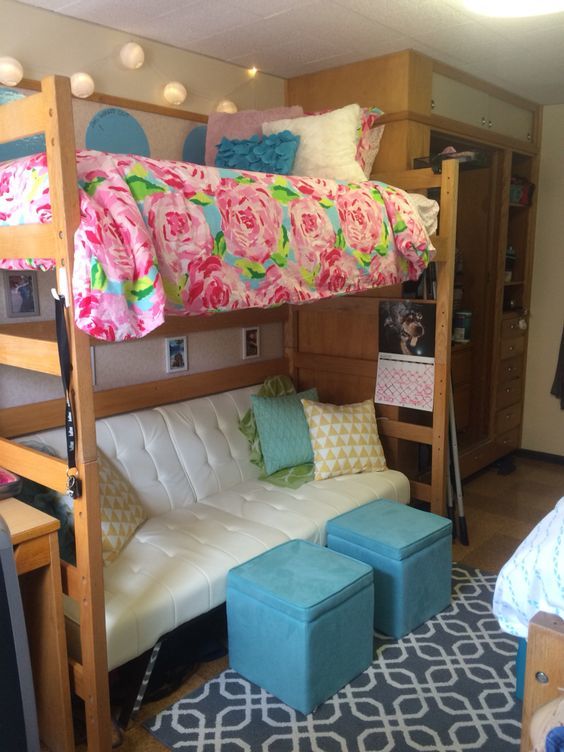 8. Because a smaller dorm isn't an excuse to look disorganized.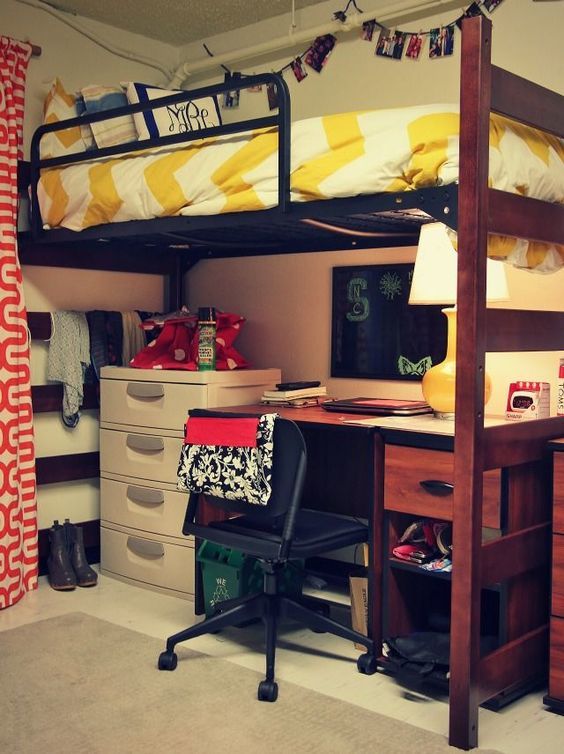 9. Artistic and cozy would be the best way to describe it. The American flag fits extremely well with the white brick-styled walls.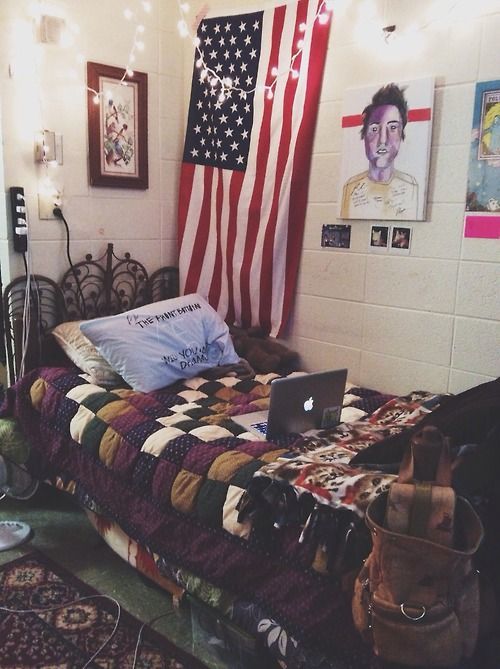 10. The blue-on-blue color combination is so satisfying. It's almost as if it's 50 shades of blue.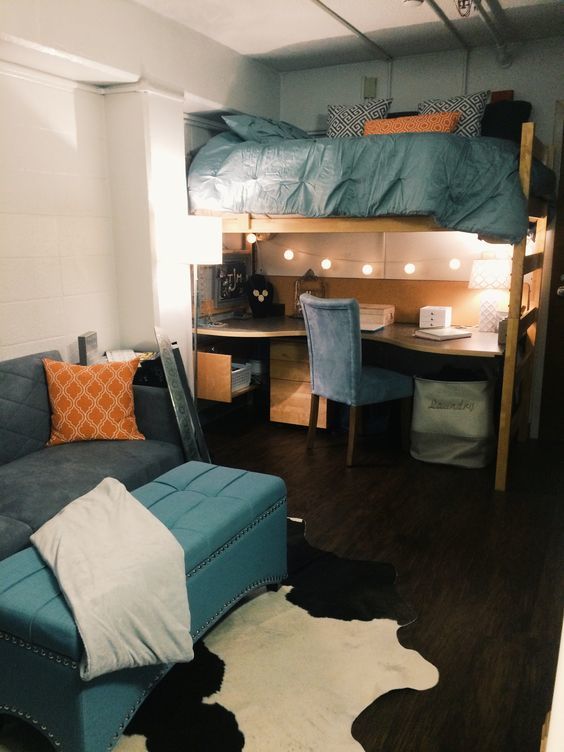 11. Cozy, Private, and saves more space than you'd think. In college, drawers are a way of life if you want to keep things organized in the easiest way possible.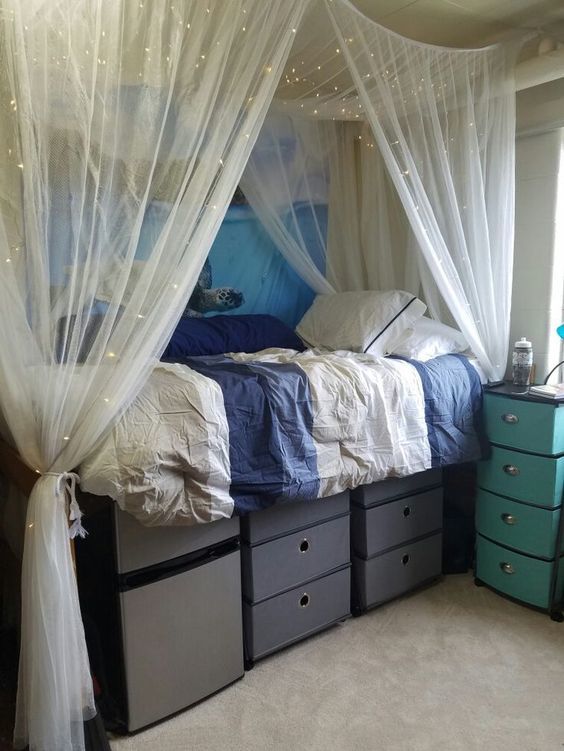 12. Boho simply fits on almost everything these days. The grayscare pictures on the wall blend well with the background and the black and white boho wall hanging.
13. The colors blend in all too well. The bright colors look cute and neat despite being used repetitively. Can you feel the upbeat vibe as well? You'll need to get your roommates to collaborate if you want to get the uniformed look.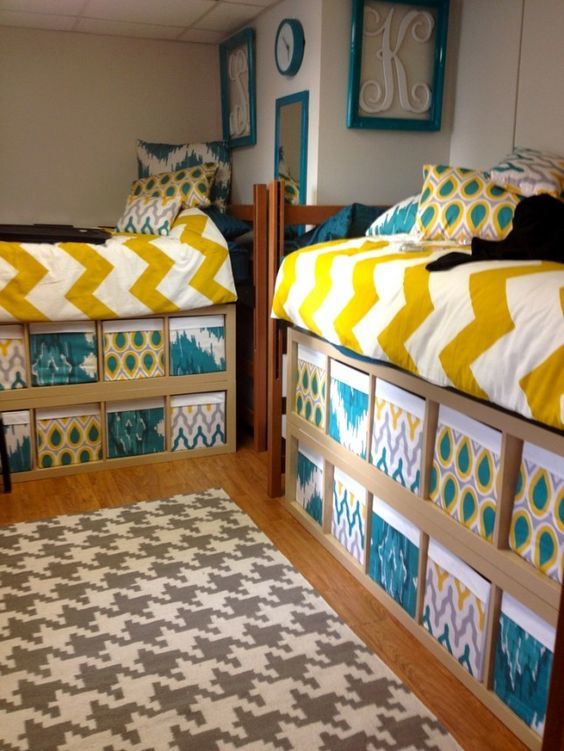 14. The modern man-cave for college boys.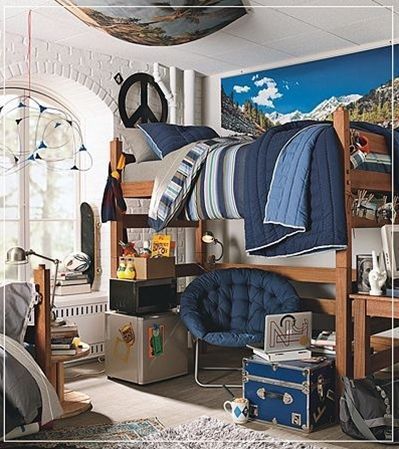 15. A small hammock is a good idea you probably never thought of.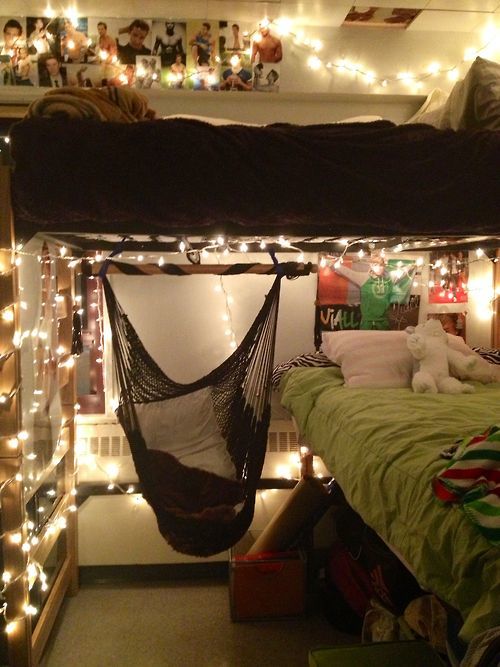 16. Neat and simple, the classic combo. The checkered floor matched with the light hue of black draws me in already.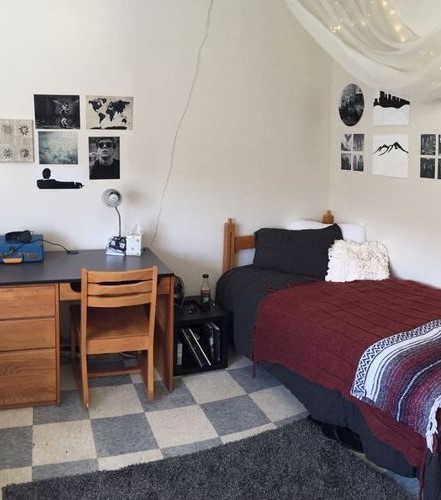 17.  A gorgeous room for a gorgeous lady, this simple yet stylish decoration will make anyone stare in awe.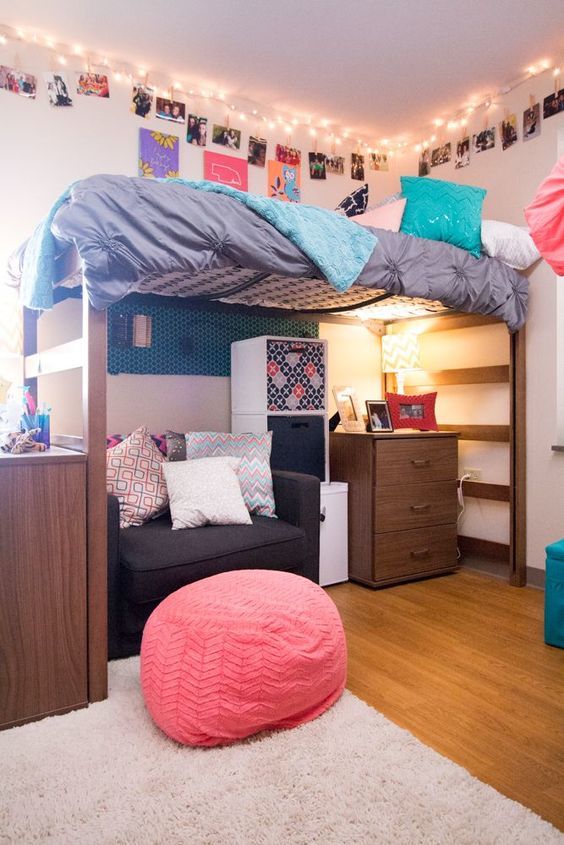 18. The three magical words: comfortable, affordable, and adorable.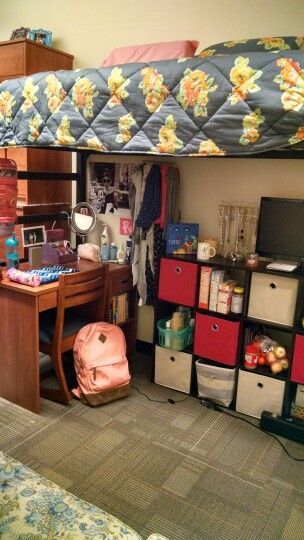 19. Pictures attached to the lights on the wall give off a cozy, nostalgic vibe.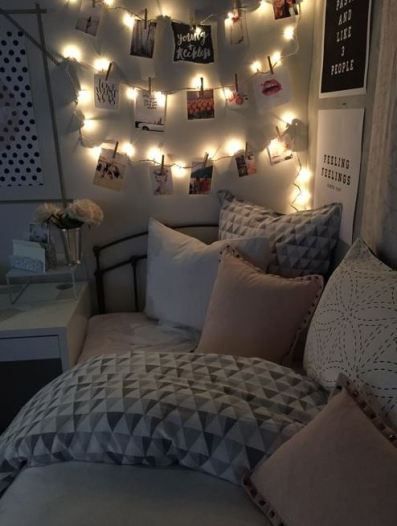 20. Boys' dorms can be cute too! It's perfectly neat, organized and gives off a cool vibe.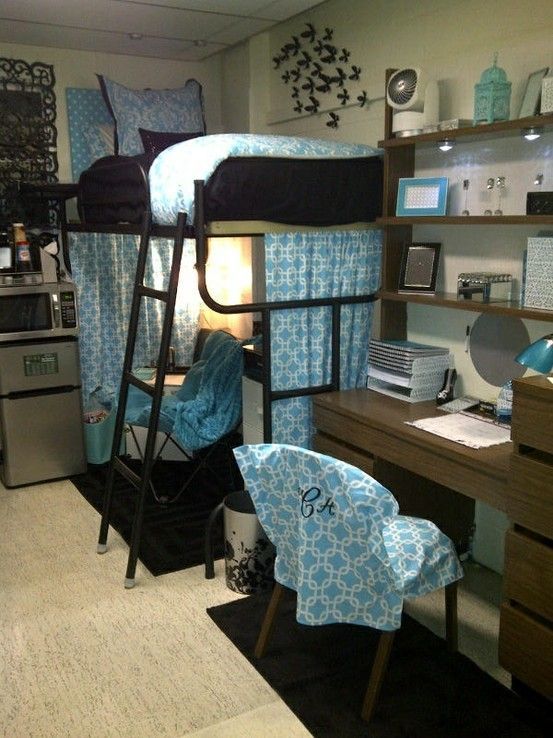 21. A romantic vibe for you and your significant other.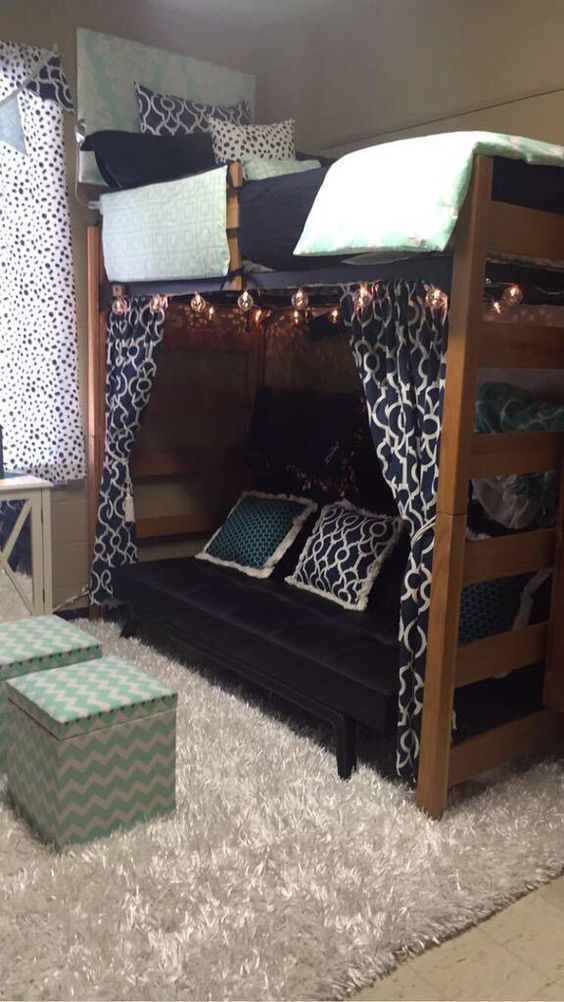 22. Who says you can't have the comforts of a hotel in your dorm?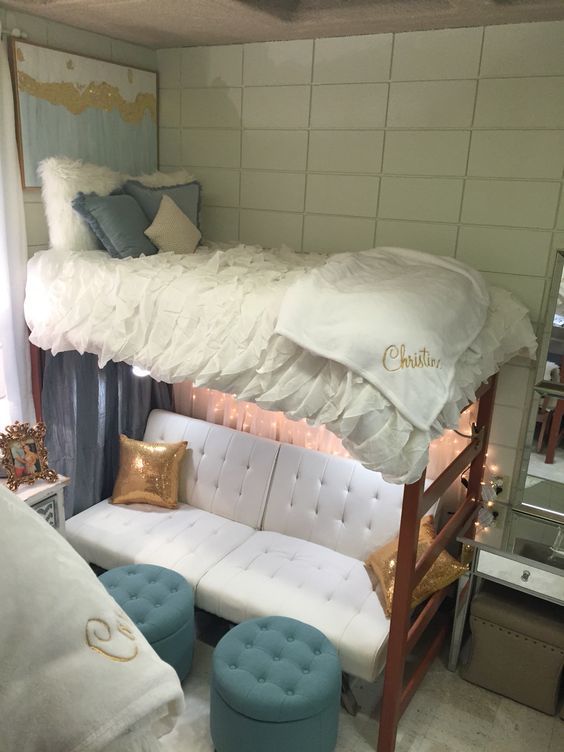 23.  Make friendships that last with a dorm that will.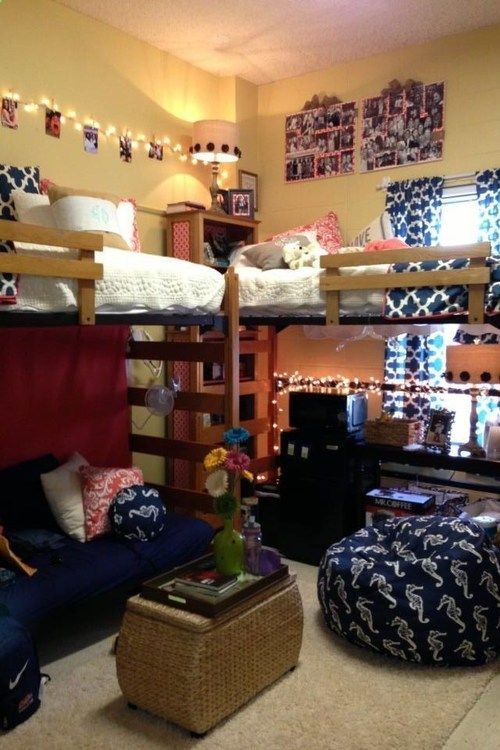 24. It's affordable and it's easy, so why not? Give your dorm a quick makeover with this fast and easy style.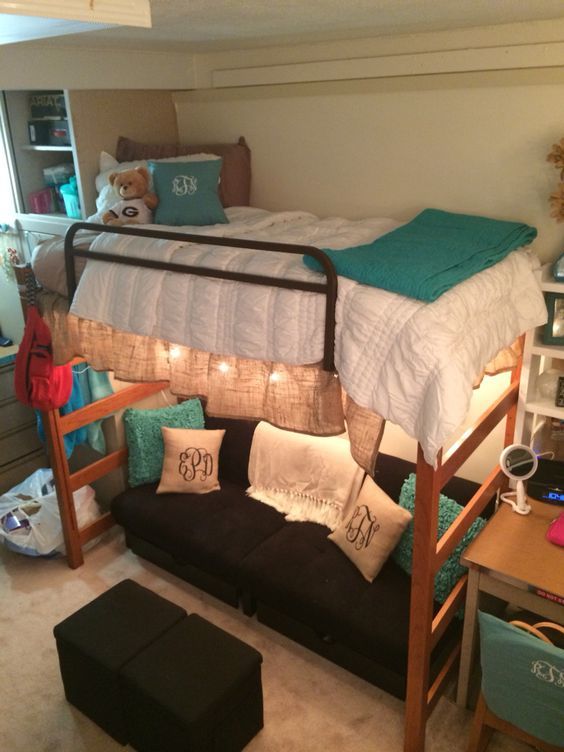 25. The cozy and industrial vibe of this dorm is irresistible.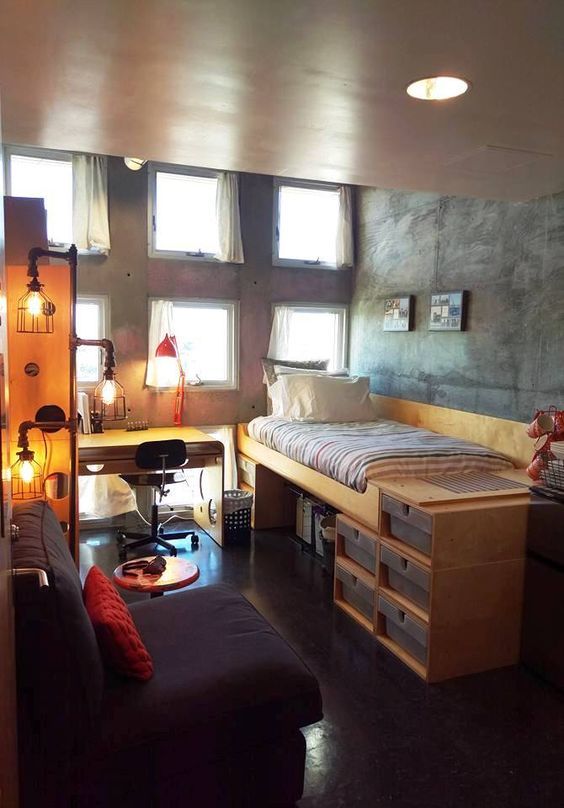 26.  A few well-blended stripes can make a huge difference.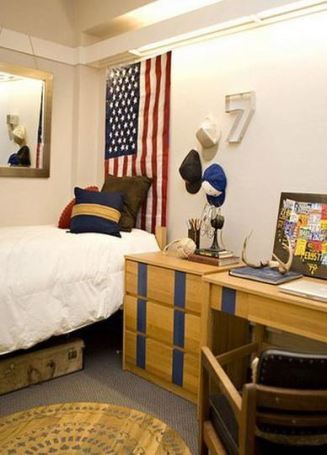 27. We don't know who Alyssa is, but please teach us how to do this!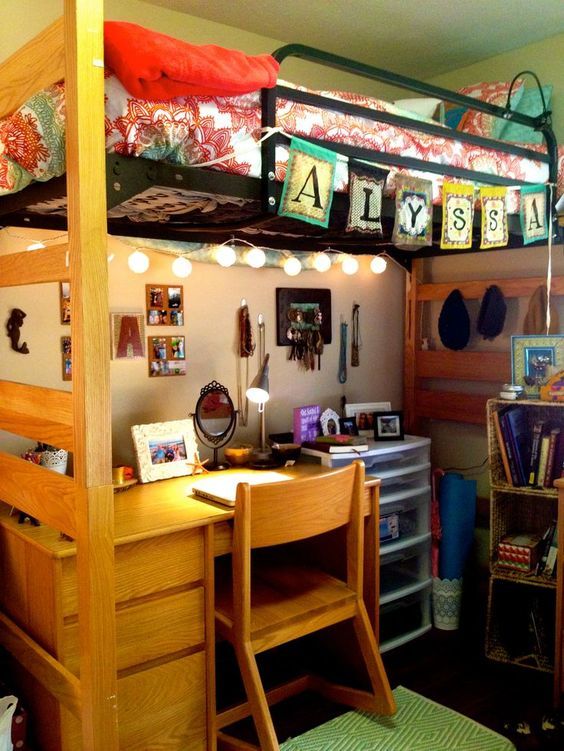 28. This is why they shouldn't even be called "Christmas lights". The warm tone of the lights compliments the sunburst colors of the Boho wall hanging.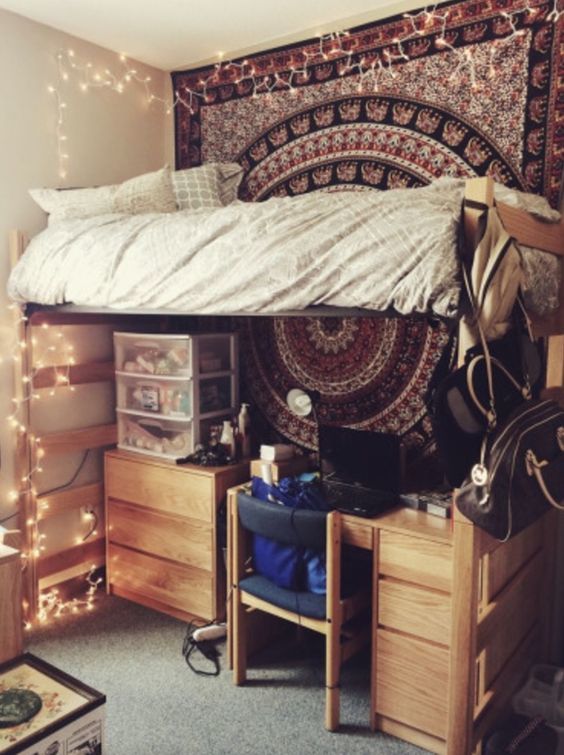 29. Invite a friend over for coffee? Why stop there if you could let them spend the night? You're a foot away from bed anyway.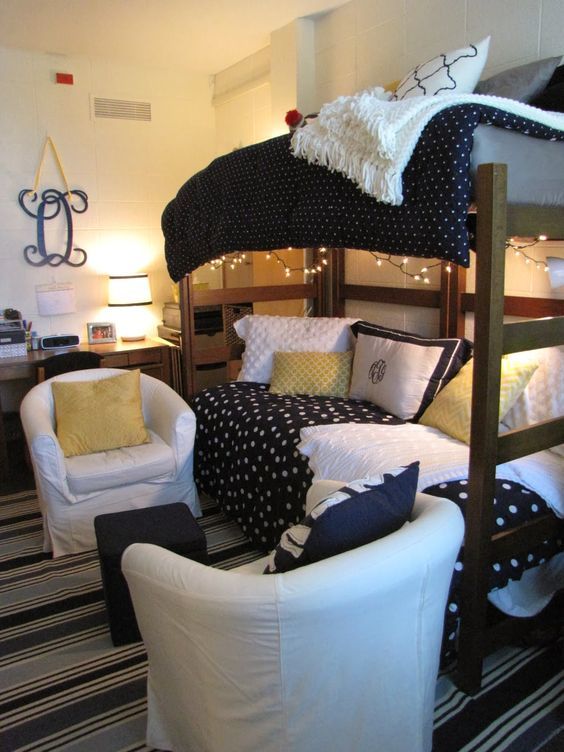 30. A makeup room under your bed, decorated with warm lights to show the perfect you!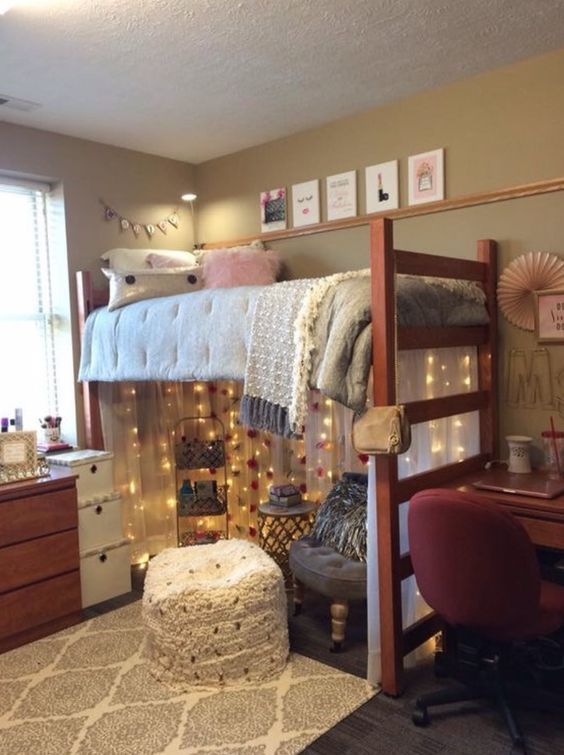 31. It looks so gorgeous and artistic that you can sleep in either the bed or the chair and you'll still wake up happy.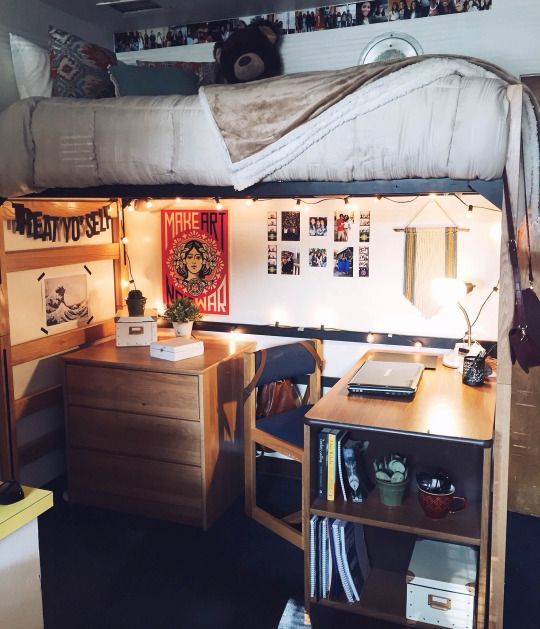 Going to college is a part of life that most people do not get to repeat again, make it worth it.
Sources:
www.pinterest.com
www.tumblr.com